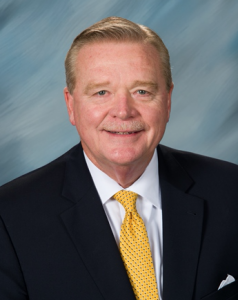 Dr. Dee O. Fowler has joined our team of Professional Associates, specializing in the areas of leadership development, coaching, and evaluation. Dr. Fowler is recognized in Alabama and the southeast as an innovative and progressive leader. His career in public education has spanned over 40 years, from teacher to Deputy State Superintendent. He has served as a leader in rural, suburban, and state-wide settings. He takes great pride in the 15 years he spent as a principal and the ten years he served as superintendent of Madison City Schools, a district with a student population exceeding 12,000 students.
Dr. Fowler began his service in Madison City as a district administrator, when the school district began in 1998, and was appointed the district's second superintendent in 2007. He was able to see the creation and transformation of the district from a fledgling group of six schools with 5,000 students into the nationally recognized district of distinction today.
His last public education position was Deputy State Superintendent and Chief of Staff for the Alabama State Department of Education. Dr. Fowler's leadership has been recognized and acknowledged by both educators and lay groups. He served as president of School Superintendents of Alabama and was honored to be named the Alabama PTA Superintendent of the Year. Additionally, he received special recognition by the Council for Leaders in Alabama Schools, School Superintendents of Alabama, Athens State University, Renaissance Learning, United States Green Council, NASA, Redstone Arsenal Community Relations Board, National Children's Advocacy Center, City of Madison, and Leadership Alabama.
He received his bachelor's degree from Lipscomb University, master's degree from the Peabody College of Vanderbilt University, and AA Certification from Alabama A&M University. He earned his doctoral degree from the University of Alabama in Tuscaloosa, where he currently serves as a member of the Capstone Education Society Board of Directors in the College of Education.
Dr. Fowler and his wife, Marcia, have one son, James, who is married and resides in Mobile, Alabama.
As Superintendent of Madison City Schools: District Identifiers
– High Expectations Produce High Performance
– Approximately 60% of all graduates (486 of 821
graduates) received a scholarship
– Average scholarship over $38,000
– District graduation rate 97%
– A state leader in closing the poverty gap in learning
(PARCA)
– Consistently in the top three districts in narrowing
the gap for special education students (PARCA)
– The only district in the state to achieve the AYP
proficiency goal in special education
– Four Presidential Scholars in four years (each year
each state may identify two)
– District Average ACT score is 23.2
– Bob Jones High School 23.5
James Clemens 23
– ACT Aspire Math given to grades 3-8
– All scores between the 79th to 89th percentile
(National Percentile Average is 50)
– ACT Aspire Reading given to grades 3-8
– All scores between the 76th to 87th percentile
– Student attendance is 95.8%
– Teacher attendance is 96%
– Challenges and Opportunities
– 61st out of 138 school districts in per pupil
expenditures
– 5th out of 138 school districts with the highest pupil
teacher ratio
– Average growth of the district is more than 200
students per year
– We Celebrate Our Diversity
– Ethnic Diversity
– More than 50 different languages are spoken by
our students
– Minorities account for one third of our
population
– Socio-Economic Diversity
– One out of every five students comes from a
poverty situation
– Financial Successes
– 73% of the Budget is committed to instruction and
instructional support
– Administrative costs account for only 2% of the budget
– Balanced budget in all but one year (double digit
proration year)
– Over a month's operating balance in reserve
– Multiple million dollar grants received
Honors, Awards, Distinctions
– President, School Superintendents of Alabama
– Superintendent of the Year Finalist, SSA
– CLAS Leadership Award Nominee
– Superintendent of the Year, District IX, SSA
– Alabama PTA Superintendent of the Year
– Athens State University Superintendent Spotlight
– School Superintendents of Alabama, District IX President
(three years)
– Person of the Year, Madison, Alabama
– Renaissance Distinguished Educator
– Graduate of Leadership Alabama
– Graduate of Leadership Huntsville/Madison County
– Madison City Schools Recognized by Niche
– Top Three Best Schools Districts in Alabama
– Top Five Best Public High Schools in Alabama
– Top Two College Readiness High Schools in Alabama
– US News and World Reports Best High Schools
– Washington Post America's Most Challenging High Schools
– Newsweek's America's Top High Schools
– Recipient of Clover Award presented by United States Green Building Council
– District Selected as National Site Location for National
Association of School Boards Technology and
Learning(T&L)Visit
– Outstanding Young Men of America
– Patriotism Award for Madison County Schools

BOARD MEMBER/MEMBER/PATRON/SUPPORTER (Past and Present):
– University of Alabama Education Capstone Society, Board
Member
– Alabama Bicentennial Committee (Huntsville)
– Council for Leaders in Alabama Schools (CLAS), Board Member
– School Superintendents of Alabama, Executive Board
– Renaissance Learning Advisory Board
– Redstone Arsenal Community Relations, Board Member
– Three Springs School, Madison, AL, Board Member
– Boy Scouts Council of North Alabama, Board Member
– First Commercial Bank, Madison, AL, Board Member
– United Way of Madison County, Board Member
– Huntsville Botanical Gardens, Stakeholder, Huntsville, AL
– YMCA North Alabama Fund Raising, Board Member
– Trustee, Asbury United Methodist Church, Madison, AL
– Building Chair, Asbury United Methodist Church, Madison, AL
– Staff Parrish Committee, Asbury United Methodist Church,
Madison, AL
– National Children Advocacy Center, (NCAC), Stakeholder
– Zoning Board of Adjustments and Appeals, Madison, AL, Board
Member
– Junior Achievement, Stakeholder
– Madison County Land Trust
– Friends of the Library
– University of Alabama Alumni Association
– University of Alabama School of Education Alumni
– University of Alabama Red Elephant Club, Huntsville
– Huntsville Museum of Art
– Madison Arts Council
– The Schools Foundation, Huntsville Madison County, Stakeholder
Published Works/Presentations
– The Relationship of Shared Decision Making on Teacher
Morale: Implications for the Middle School Administrator
(doctoral dissertation)
– National Association of School Boards National Convention
– Alabama Association of School Boards
– School Superintendents of Alabama
– The University of Alabama
– Danforth Society
– Education Administration Classes
– Distant Learning Administration Classes
– Alabama A&M University
– State Department of Education Mega Conference
– Virtual Alabama Safe Schools Summit
– Jefferson County Mid-Level Administrators
– Huntsville Madison County Leadership
– Leadership Alabama
– Teledyne Tungsten Products
– Alabama Middle School Association
– Fort Payne City Schools (Forrest Avenue School)
– Huntsville City Schools (new administrators)
– Junior Achievement
– Civic Clubs
– Optimist
– Madison Rotary
– Huntsville Rotary
– Madison New Comer Club
– Republican Women
– And Others
– Southern Association of Colleges and Schools Visiting Team
Member
– Revision of Personnel Practices and Procedures (Madison
County Schools)
– Creation and Revision of Board Policies and Procedures
(Madison City Schools)
– Integrated Science Committee for Madison County and
Huntsville City Schools