Why Data-Informed Communication is a Game-Changer for K-12 Districts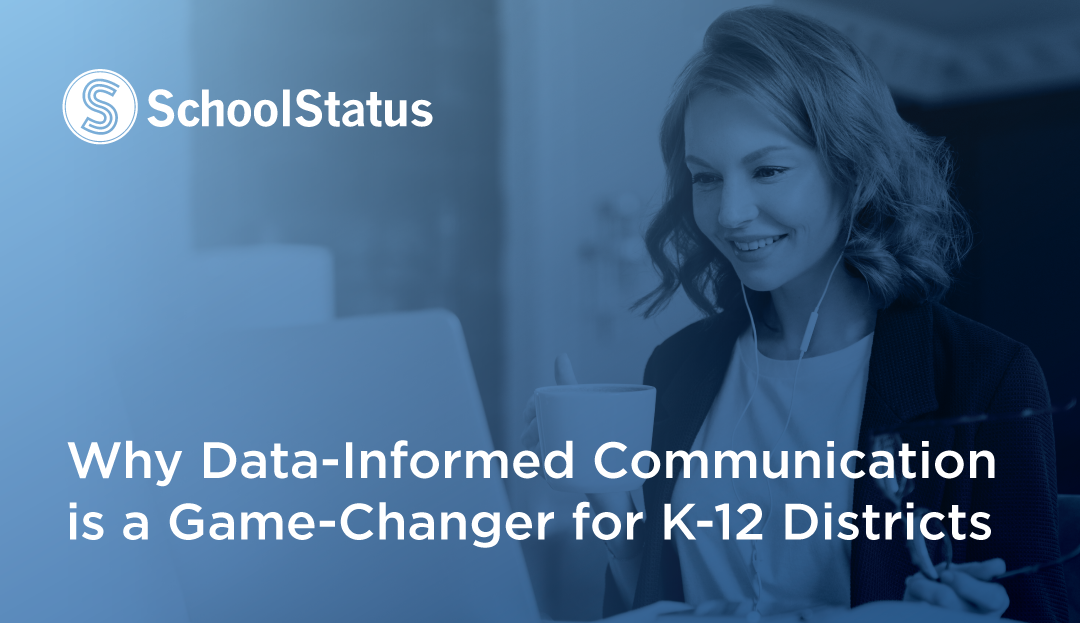 ---
If engagement through two-way communication is part of your strategic plan, it may be time to think critically about the tools teachers are using to reach parents. Most K-12 communication solutions weren't built with consideration for analytics, or administrator oversight.
Other common issues are lack of language translation, one-way mass text blasts, and robo calls with no way for parents to return a phone call. Feature-rich parent apps may seem like the solution, but apps only work for the parents who will download them. What results is inefficient communication that frustrates teachers and parents alike.
For a district administrator, these issues may go unnoticed because they can be difficult to observe. Educators are innovative–experts at making the most of the tools available to them with little extra time. Your teachers may be using a free app with little security, a tool with no administrator oversight, or their own cell phones to talk to parents. What are the signs that your teachers need better tools so that parent engagement is supporting your district goals?
Important markers for healthy communication with parents include:
1. Communication from the school is personalized to the parent and student
2. Communication is delivered in a form that parents can access and understand
3. Conversations are happening when things go right, not only when something goes wrong
4. Every student has at least one family member who is receiving communication
5. Parents are returning communication to teachers and the school
As an administrator, you may find that you have no way to tell how frequently parents are responding to teacher messages or if language translation is an issue. You may not know if conversations are contentious, productive, or professional. Worse, you may only know when there is an issue and then have no way to review the conversation for yourself.
The answer is data-informed communication.
Data-informed communication is a revolutionary approach to school-home relationships that brings together student data, data analytics tools, and parent communication tools. Student achievement data is displayed alongside tools to reach out and discuss plans with parents. Furthermore, communication data such as call or text frequency, call transcripts, and which parents have received contact are visible on communication dashboards.
Data-informed communication:
● Gives administrator oversight into where communication is or isn't taking place
● Puts student data (SIS, Assessments, Benchmarks, ACT, etc) on the same screen as communication tools
● Communication events are logged automatically to save teachers time and eliminate inaccurate record keeping
● Allows comparison of communication metrics with other goals such as attendance initiatives
● Is equitable with translation capabilities and no parent app necessary
● Allows parents to respond one-to-one for meaningful relationship building
● Gives district administrators a macro view of the parent engagement health of the district.
With data-informed communication, parent relationships are no longer hidden behind multiple apps and phones across your district. Administrators and teachers find peace of mind knowing that every parent is being reached and conversations are focused and productive. What follows is a healthier communication system where teachers are having data-driven conversations with parents, and administrators have oversight into why, when, and how communication with parents is taking place. Data-informed communication is better for parents, easier for teachers, and more appropriate for your district goals.
About SchoolStatus
SchoolStatus is a leading provider of a K12 communications and operations ecosystem that leverages the power of its data analytics and engagement platform to drive better user experiences and student outcomes. SchoolStatus removes technology, language, and access barriers to parent engagement, and has successfully facilitated hundreds of millions of messages between educators and student families through its platform. SchoolStatus, along with its recent acquisitions of the Operoo and TeachBoost, gives educators across 44 states access to the leading solutions for insights and data to support strategic decision-making. For more information, visit schoolstatus.com.