Muhyiddin visits top-performing Alabama school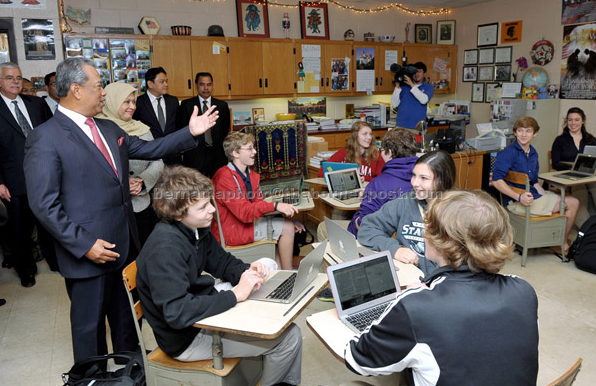 ---
A visit to a top-performing high school near here by Deputy Prime Minister Tan Sri Muhyiddin Yassin has been an eye-opening experience which may well see several initiatives undertaken there being considered for schools back home.
These include its pervasive use of technology such as laptop computers rather than traditional textbooks in the teaching and learning process.
With an enrollment of about 1,200, Daphne High School was a recipient of the prestigious 'National Blue Ribbon Schools 2012' award under a United States Education Department program that honors public and non-public schools where students perform at very high levels.
Muhyiddin, who is education minister, was clearly impressed with what he saw, including the students' thinking skills and creativity as well as the holistic teaching process espoused by the school, which focused on academic, co-curriculum, and other related activities towards producing well-rounded individuals.
"They (students) seem more independent and communicate well. This shows the school's level of performance. It's definitely something we can emulate," he told the Malaysian media covering his two-day working visit to Alabama on Thursday.
Alluding to the students' confidence in answering questions and their mature conduct during his interactions with them, Muhyiddin said: "These are the attitude and skills we should develop among Malaysian students."
Another feature of the school which drew his attention was that each student was supplied with a top-range laptop for use in class.
"This is a good system, as the students can return the laptops after they graduate. The laptops can be insured against damage or loss. Let's see the possibility of implementing something like this in Malaysia," he said.
Muhyiddin was accompanied by his wife Puan Sri Noorainee Abdul Rahman, Malaysian Ambassador to the United States, Datuk Othman Hashim and Education Ministry deputy secretary-general Datuk Dr Khair Mohamad Yusof.
The deputy prime minister also touched on one of the pillars of the school which had to do with its internationalization agenda whereby students were given the opportunity to learn more about other countries.
In this context, he raised the possibility of one or two schools in Malaysia establishing linkages with Daphne High School via the use of technology.
To a question, Muhyiddin said no decision had yet been made with regard to the use of mobile phones in Malaysian schools.
Muhyiddin and his entourage were given a tour of the school which saw them dropping in on classes in progress, being briefed by school administrators, partaking in a question-and-answer session with students, and savoring regional cuisine.
Muhyiddin and school principal Dr Meredith Foster also exchanged gifts at the end of the visit.